In 2021, DORA did deep-dive investigations into security, reliability, documentation, and more. You can read the 2021 report here. Below are some of the analytical tools used in producing the report.
Key Findings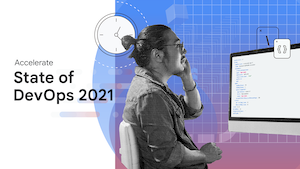 The highest performers are growing and continue to raise the bar.
Elite performers now make up 26% of teams, and have decreased their lead times for changes to production. The industry continues to accelerate, and teams see meaningful benefits from doing so.
SRE and DevOps are complementary philosophies.
Teams that leverage modern operations practices, outlined by our Site Reliability Engineering (SRE) friends, report higher operational performance. Teams that prioritize both delivery and operational excellence report the highest organizational performance.
More teams are leveraging the cloud and see significant benefits from doing so.
Teams continue to move workloads to the cloud and those that leverage all five capabilities of cloud see increases in software delivery and operational performance and organizational performance. Multi-cloud adoption is also on the rise so that teams can leverage the unique capabilities of each provider.
A secure software supply chain is both essential and drives performance.
Given the significant increase in malicious attacks in recent years, it is even more pressing for organizations to shift from reactive practices to proactive and diagnostic measures. Teams that integrate security practices throughout their software supply chain to deliver software quickly, reliability, and safely.
Good documentation is foundational for successfully implementing DevOps capabilities.
For the first time, we measured the quality of internal documentation and practices that contribute to this quality. Teams with high quality documentation are better able to implement technical best practices and perform better as a whole.
A healthy team culture mitigates burnout during challenging circumstances.
Team culture makes a large difference to a team's ability to deliver software and meet or exceed their organizational goals. Inclusive teams with a generative culture experienced less burnout during the COVID-19 pandemic.